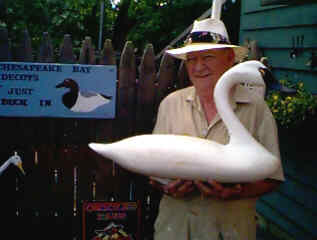 Captain Harry in front of his decoy Shop at his home
Captain Harry Jobes decoys at "Riverside Retreat"
---
Captain Harry R. Jobes has been carving decoys for most of his life. He began carving in Havre de Grace, Maryland, at the age of nine and learned the art of decoy making in its truest form from R. Madison Mitchell. He worked in Mitchell's decoy shop for over 25 years before opening a shop of his own. The Captain has spent all of his life on the Chesapeake Bay and Susquehanna Flats as a commercial waterman, hunting guide and charter boat captain. This close association with nature has given him first hand insight into the waterfowl world. Captain Harry's decoys have been featured in books and museums as well as numerous private collections across the country. The Captain and his wife Virginia, married July 22, 2006, reside in Maryland where their decoy shop is located. Many Different Decoys of Full Sized Waterfowl are made by Captain Harry Full Size Art quality, Full Size antiqued and small size antiqued.
Be sure to visit Harry Jobes Decoys
---
These pictures are for your viewing and are of our collection and are not necessarily currently available for sale. We do have many of Capn' Harrys decoys for sale at our "Catalog of Decoys"
---
Click on the Picture for the full size picture
Bladplates
or Widgeons


Barrows Goldeneyes


Black Ducks

Blue Bills
or Scaup

Canvasbacks


Common Goldeneyes


Red Heads


Ringneck Pair


Shoveler Pair


Wood Ducks


Pintail Pair


Swan


Ward Style
Canvasbacks

Mallard Pair


Brant


Canada Goose

Blue Goose


Snow goose


Cinnamon Teal


Blue Wing Teal


Green Wing
Teal


Red Breasted Merganser


Hooded Merganser


Seagull


Common Merganser


Bufflehead


Harlequin Pair


Ruddy Ducks - Summer


Ruddy Ducks - Winter


Two Headed Coot


Old Squaw Pair


Gadwall Pair


Mantle Quality
Seagull


High Head Canvasback Pair (Tollers)

Sleeper Canvasback Pair

Half Size Swan


Coot

Eiders

Coot

White Wing Scoter Pair

White Dove

Full Size Sam Barnes Style Swan

Comments From New Owners of Captain Harry's Decoys
"it (Canvasback Drake) showed up in perfect condition and looks wonderful sitting next to my Chesapeake Bay Retrievers. However, that decoy will never see water. Thank you," Sybil Swinfield, Morrison, CO"

"I received your decoys (High Head Canvasbacks with Keel) today and they are just beautiful. I am so glad I was high bidder. The packing was wonderful." Evelyn Davidson, Secretary, MD

"The decoys arrived in beautiful condition, I think that was the best packing job I have ever seen. Thank you so much for taking the time to make sure they got here undamaged. Captain Harry is truly an exquisite artisan, please thank him for me and let him know these decoys will be passed on to my children after I can no longer enjoy them. Thanks Again," Tom Gurley Delray Beach, FL

"Received the decoys today (Full Size Antique Wigeons), They are fantastic. Thanks again!!!" Pete Rogers, PA

"Nick, Got the ducks -- great packaging. No problems and the ducks look great" Pam Witte, St Cloud, MN "Got the Pintails ... As expected, I was not disappointed. Great packaging and great product." Pam Witte, St. Cloud, MN

"I have received the decoys (Antique Stytle Pintail Pair) and have unpacked them. They are awesome!! They are the perfect decoys to start my collection. I am sure I will be buying some more from you. I am over the next couple of years going to collect several decoys. Not only do I love the style but I like the colors and overall features he has on his decoys". Dennis. Talbot,Independence, MO.

I Received the Black Duck Decoy today & I was very pleased with it. Very nice paint work on the feathers!! Craig T., Houston, TX.

These Decoys were also called "TOLLERS" "We'd put out a dozen or so, 100 yards out in front, at an angle to the left side and thee same off on the right. Then we'd put out several hundred decoys (a stool) right in front of us. We'd set up and wait. Then the Ducks would come flying in and come Tolling right into the Stool"......Cap'n Harry
---
This site built by Nick of Riverside Retreat